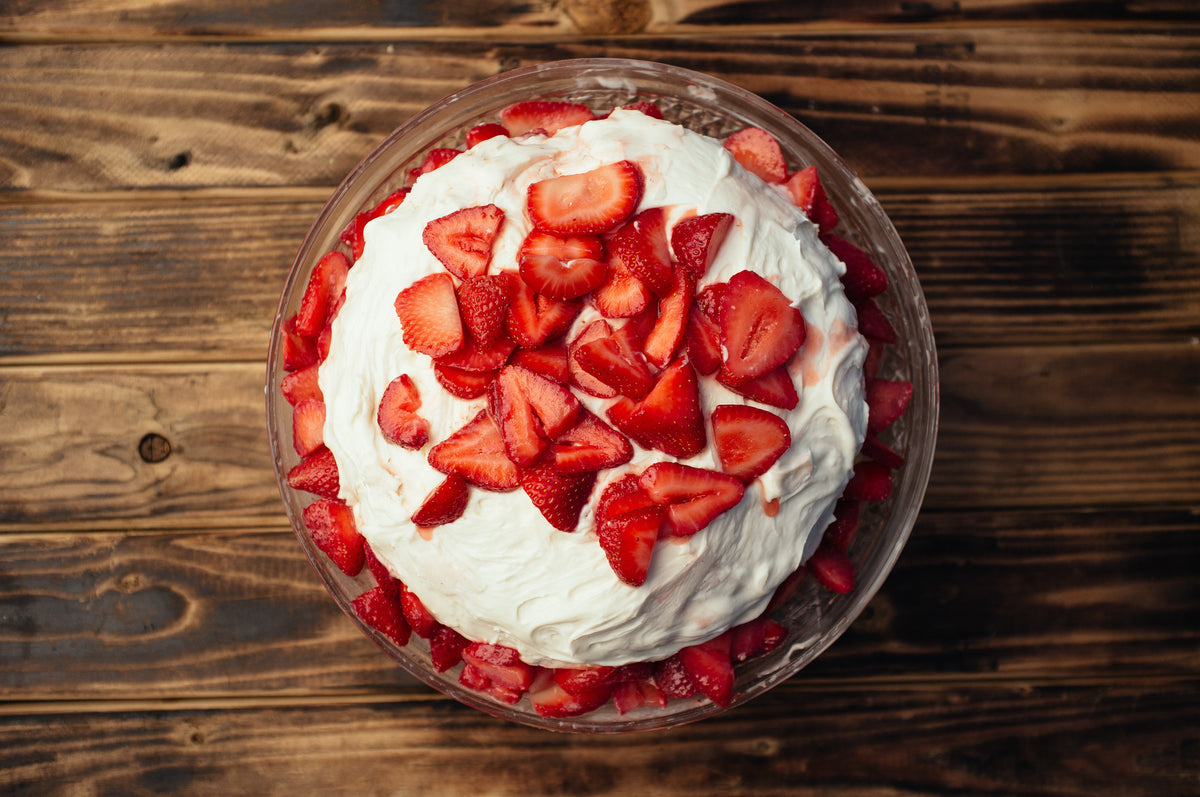 After making pizza in the Blaze Tower I decided to figure out the whole baking thing in the Tower and it has been so deliciously fun. I previously made a banana nut cake in the tower and this time I felt a little fruity and went with a strawberry shortcake. Talk about making good decisions. Do not my base your judgement on making this on my lack of cake decorating skills.
What You'll Need
The Equipment
 Ingredients
3 pints fresh strawberries
1/2 cup white sugar
2 1/4 cups all-purpose flour
4 teaspoons baking powder
2 tablespoons white sugar
1/4 teaspoon salt
1/3 cup shortening (I didn't have butter so used softened butter and added 2 Tbs)
1 egg
2/3 cup milk
Jar of strawberry syrup (some say optional but I say not if you want pure gooey goodness)
Cream cheese frosting - See blog post for recipe 
How To Make It
Slice the strawberries and toss them with 1/2 cup of white sugar. Set aside.
Start coals and preheat Blaze Tower to 425 degrees F (220 degrees C).
Grease and flour one 8 inch round cake pan.
In a medium bowl combine the flour, baking powder, 2 tablespoons white sugar and the salt. Cut in the shortening until the mixture resembles coarse crumbs. Make a well in the center and add the beaten egg and milk. Stir until just combined.
Spread the batter into the prepared pan. Move completely gray coals to one side of tower.
Insert Blaze Baking Steel to opposite side of coals and place cake pan on the Blaze Baking Steel. Close tower with lid and bake at 425 degrees F (220 degrees C) for 15 to 20 minutes or until golden brown. Check doneness with a toothpick. If batter comes out on toothpick cake needs a few more minutes. Let cool partially in pan on wire rack. 
Slice partially cooled cake in half, making two layers. Cover bottom half with some cream cheese frosting, half of the strawberries, and some strawberry syrup on one layer. On the top layer cover with cream cheese frosting, some strawberries, and then edge with rest of strawberries. (tip: freeze for about 15 minutes before serving so frosting doesn't melt off).
Sure, you could make this in the oven but it's so nice to not get the kitchen all hot. Plus it's a lot of fun to make everything in the Blaze Tower. I made the cake then dinner and rolls. It was all fantastic. Enjoy!