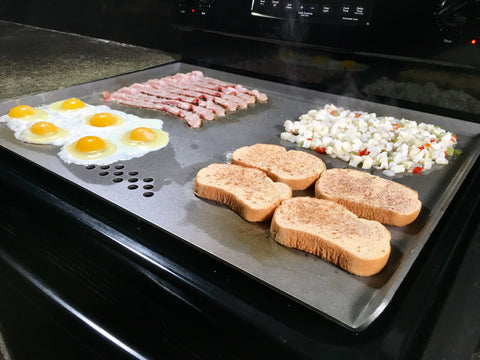 08 Kitchen Cookware
Steelmade Flat Tops are the first removable indoor griddle that instantly transforms your kitchen stove into a restaurant-quality Flat Top. Eliminate multiple pots, pans, and skillets forever. Skip the dishes and prepare breakfast, lunch, and dinner on one versatile cooking surface.
FOOD TASTES BETTER ON A STEELMADE
The reviews are in and customers agree: food just tastes better on a Flat Top. The most important part of the flavor comes from the unique seasoning layer that builds up on the Flat Top with use. Not only does this create a naturally non-stick cooking surface it also adds to the flavor of any food. The more you use it, the better it gets! The unique design of the front lip also allows for important airflow that will keep food from getting soggy while cooking - something that can't be duplicated in pans and skillets.
FOOD COOKS FASTER ON A STEELMADE
We use super-thick 3/16" steel on all of our standard Flat Tops that is over 50% thicker than a Blackstone Griddle and nearly 4x thicker than typical pans or skillets. This larger thermal mass puts more heat into the food in less time for better sears and quicker cooking.