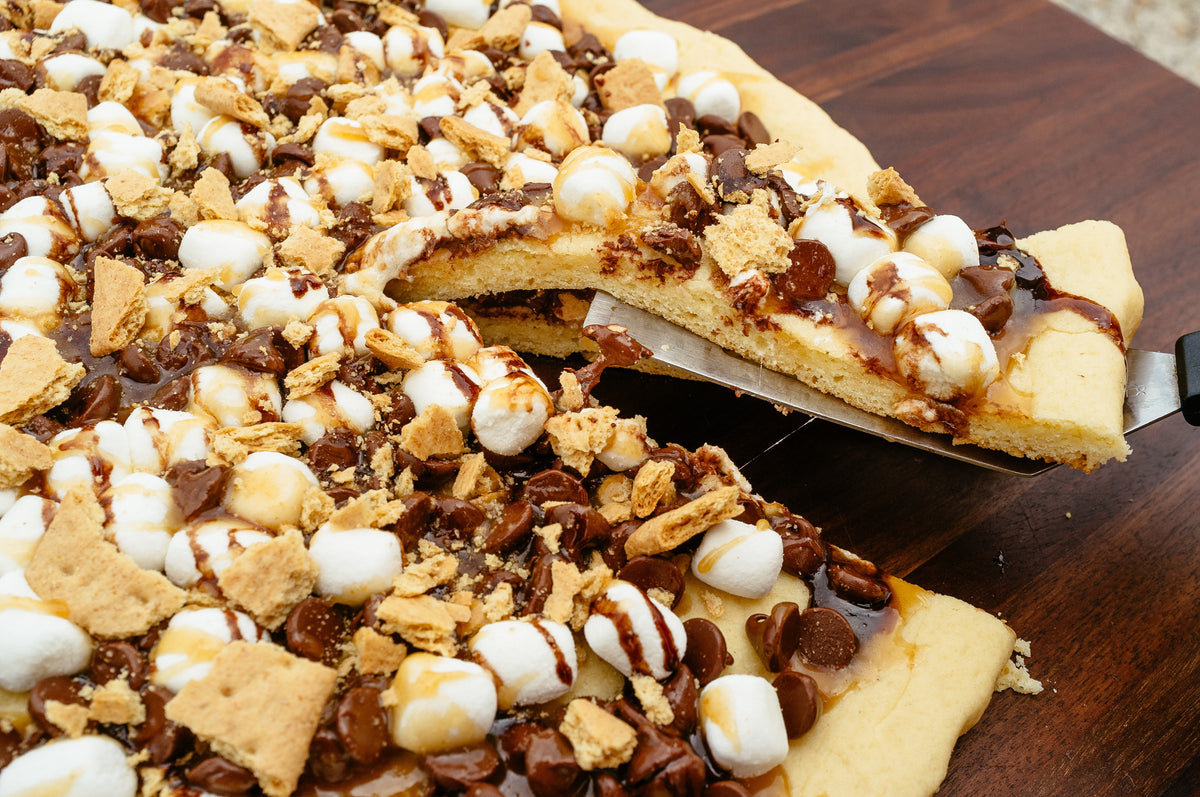 S'mores are a favorite dessert past time. First created for Girl Scouts by the campfire in 1927. There are now many recipes for s'mores. You can follow the perfect recipe by Hamilton 'Ham' Porter from the movie Sandlot (click on the link, watch, you'll smile) to make S'mores or you can give this little dandy a try. We have made both recipes in our Blaze Tower with great success and lots of fun.
What You'll Need
Tools
Ingredients
Sugar Cookie Dough
1 1/2 cups butter, softened
2 cups white sugar
4 eggs
1 teaspoon vanilla extract
5 cups all-purpose flour
2 teaspoons baking powder
1 teaspoon salt
S'mores topping
How to Make it
First and foremost, turn on your Blaze Atmos, set the right party mood, and turn on some fun 50s music. I love my Atmos. It completes my grilling experience.
Sugar Cookie Dough
Start coals (approximately 75-100 briquettes or 8lbs of charcoal) in Blaze charcoal basket. Once coals have burned to gray move the coals carefully to one side of the basket using mitts and grill tool.
Place Blaze Baking Steel in the tower to preheat.
In a large bowl, cream together butter and sugar until smooth. Beat in eggs and vanilla. Stir in the flour, baking powder, and salt. Cover, and chill dough for at least one hour (or overnight). If you are short on time you can go ahead with rolling out dough but add flour to your dough and rolling pin.
Preheat tower to 350 degrees F (200 degrees C). Roll out dough on parchment paper 1/4 to 1/2 inch thick. Shape into pizza shape of your choice (I like to make a ridge around the side so toppings don't melt off). This recipe will make approximately two S'mores pizzas.
Bake 20 to 25 minutes on preheated Blaze Baking Steel. 
Add S'mores topping of your choice and allow to melt on baked dough in tower for approximately 5-7 mins (or to your preferred doneness).
Remove and let cool slightly before serving.
The Results
I had a lot of fun making this. I tend to not like regular s'mores because they get so messy and I feel there's too much marshmallow (personal preference). This pizza was dynamite. Perfect sugar rush to keep our kiddos up late for fireworks on the 4th of July. We all enjoyed a slice (some two or three slices). It goes great with a glass of cold milk. 
I like to take full advantage of hot charcoals whenever possible. So I baked this after making a full meal on my blaze tower. I simply added more coals to get the temperature to where I needed it and the tower stayed heated with upper vents closed without any problems. If you feel you need more heat simply add about 10-15 more briquettes. The giant sugar cookie baked evenly and perfectly. 
Warning: Sugar loaded and delicious. If serving to children make sure you are prepared for goofy silly kids and lots of fun.
Be Blaze and give this recipe a go... Get it? Be Blaze... Like be brave. Yes, I know, I'm a 100% dork and I embrace it.