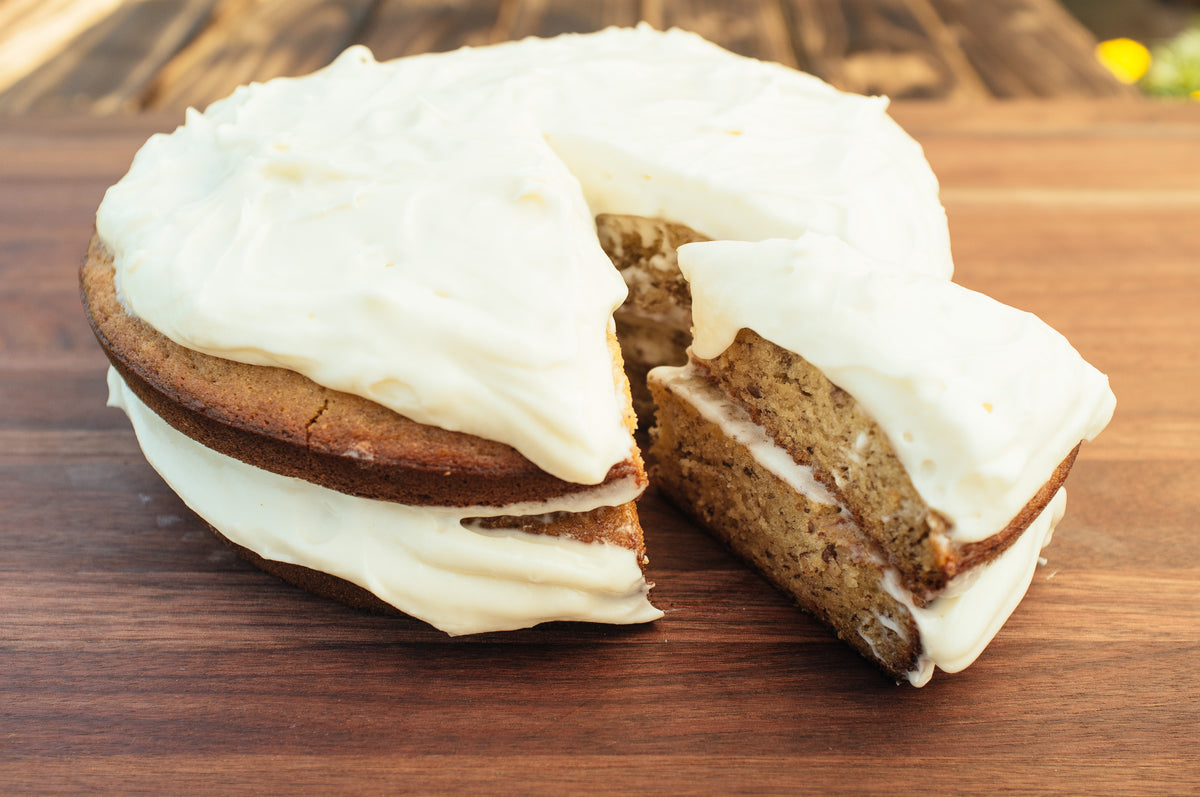 I got the idea of baking a cake in the Blaze Tower. Naturally, I chose an all-around favorite cake, banana nut cake. Now... for those of you thinking "isn't it banana nut bread", no it is not. We like a good ratio of frosting to cake and the bread is made in a loaf pan with much thicker slices and less surface being covered with frosting. This is made in a cake pan and has as much, if not more, frosting than cake (with extra on the side if desired).
What You'll Need
1 1/4 cups sugar
1/2 cup (1 stick) butter or margarine, softened
2 eggs
3-4 (medium to large) very ripe bananas
1/2 cup buttermilk (if you don't have buttermilk just add a couple teaspoons of vinegar to regular milk and let it sit for a few minutes)
1 teaspoon vanilla
2 1/2 cups of flour
1 teaspoon baking soda
1 teaspoon salt
1 cup chopped nuts, if desired
And What You'll Need To Be Cool Like Me
How To Make It
Using the charcoal basket in the Blaze Accessory Kit heat about 8-12 pounds (1/2 a bag) of charcoal in your Blaze Tower. Let the coals get fully heated and keep the temperature of your tower at around 350 degrees using the upper and lower louvers to adjust temperature. 
In a large bowl, mix sugar and butter. Add eggs, bananas, buttermilk and vanilla; beat with electric mixer on medium speed until smooth. Slowly stir in flour, baking soda, salt and nuts just until moistened. Pour batter into pan/s (I used non-stick pans, lightly grease pans if your are using anything else).
Baking time in the Blaze Tower will depend on what size pain you choose to use. I used two 9 inch cake pans and it took 30 minutes to bake.
Before inserting cakes into the tower (that is now up to 350 degrees and holding), while wearing grill mitts, using a grill spatula move the coals to the sides of the charcoal basket. Leave a space in the middle of the basket. Place the Blaze baking steel included in the Pizza Kit into the tower. Position the cakes on the baking steel. The baking steel will provide an indirect heat way of baking the cakes. It will get up to temperature fairly fast to bake the bottom of the cake to perfection. 
Check if your cakes are done by inserting a toothpick into the middle of the cake. If some of the cake or batter comes out on the toothpick as you pull it out then the cake needs to bake longer. If it comes out dry, it is done. 

To make your cake unreal place it on a cooling rack in the freezer for 15 minutes immediately after baking to create an amazing amount of moisture.
Step Up Your Game
Add some cream cheese frosting (see recipe on cream cheese frosting blog post).
Give It a Go
I know it may be easier to bake this cake in your oven but I honestly feel it's so much more fun to bake in the tower. I like a challenge and I had no idea how this would turn out. My end results were terrific! The cake was moist yet fully baked and tasted wonderful.  Have fun with your Blaze products! Give this recipe a chance. I am no master chef. I have little grilling experience beyond product testing our Blaze products. I baked this cake easily on my first try. Let us know how your attempt goes. I bet you'll really enjoy it.
The cake before frosting.
The cake after frosting.
And... The glorious first cut. As my 3 year old said while licking his lips, "nummy in my tummy mommy!"