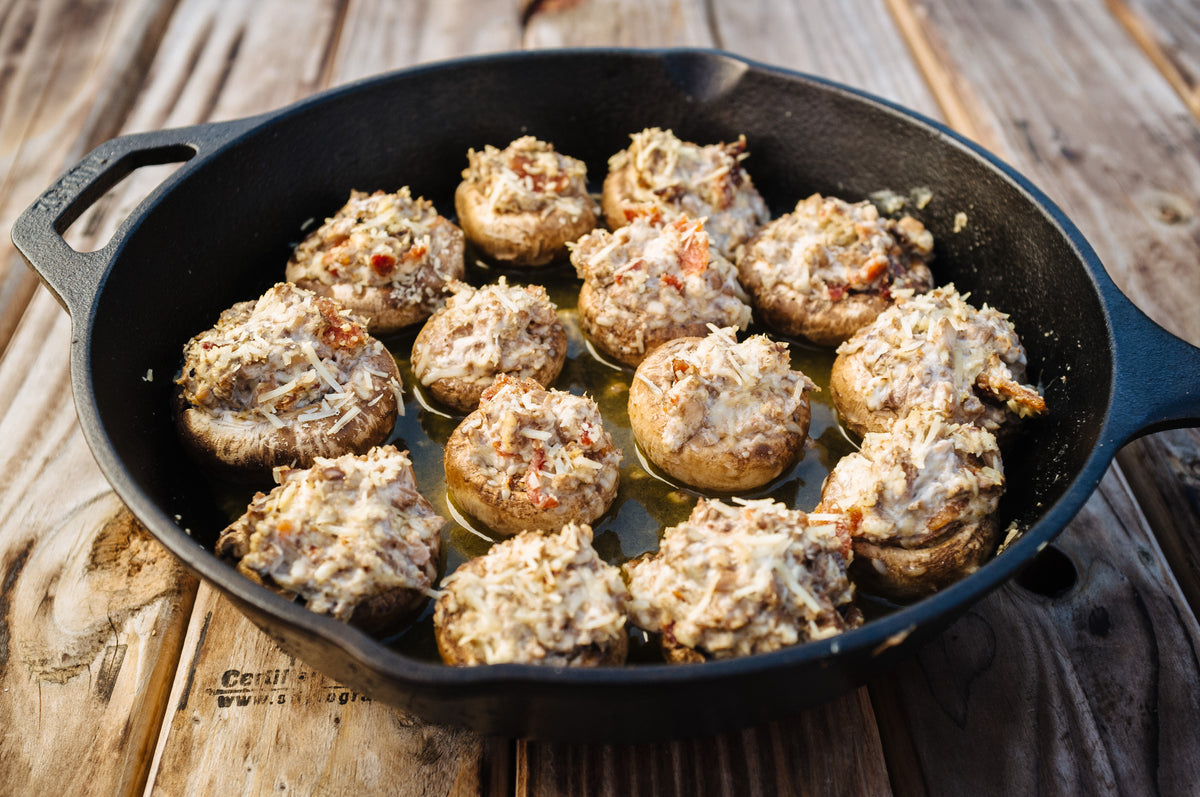 What kind of overalls does Mario wear? 
Denim, denim, denim. 
If you played Mario brothers you will know the tune that is supposed to be said when saying "denim, denim, denim" completing that joke. If not then check out this video to clarify that joke for you. 
Why am I talking about Mario Brothers for a blog post? Well this blog post is about stuffed mushrooms and of course my brain gravitates towards the iconic video game. Doesn't yours? Or am I the only one? If so, that does happen to me often. Anyway...Mario eats mushrooms to power up. I have to agree with the concept the video game adopted. I do not support consuming red spotted mushrooms but I do recommend 'powering up' your meal by cooking edible mushrooms whenever possible.
My goal when working on the recipe for stuffed mushrooms was I wanted a filling that is easy and slobber producing fantabulous (no I didn't misspell it that's how I say it) tasting. There are a TON of stuffed mushroom recipes out on that interweb thingy and if you're looking for fast, easy, and scrumptious flavor try this one. I am extremely satisfied with this recipe. It includes BACON (sizzle, sizzle, sniff, snifff, yummmm bacon). Always a good idea to include a little bacon.
 What You'll Need
Tools
Ice cold beverage (optional) 
Prime Discounted Monthly Offering
Ingredients
3 - 6 slices of bacon - The recipe only needs 3 but it's a sin in our house to not make extra. When the bacon aroma is in the area they flock to the smell and must have craving fulfilled or I hear lots of crying (adults included). It's like vampires smelling blood, except it's bacon.
1/2 (8 ounce) package cream cheese, softened
2 tablespoons grated Parmesan Cheese
3 drops Worcestershire sauce
1/2 teaspoon ground black pepper
1/4 teaspoon salt
1 pound mushrooms, stems removed but not thrown away because you'll use them in filling
Stems from mushrooms diced
2 tablespoons grated Parmesan cheese - not mixed in filling 
2 teaspoon crushed garlic or garlic powder - whatever is available. (optional but worth it)
2 tablespoon butter, cut (optional but worth it)
How To Make It
Preheat Blaze Tower to 350 degrees F (175 degrees C).
Place the bacon in cast iron skillet and cook over medium-high heat, turning occasionally, until crisp and evenly browned, about 10 minutes. Drain the bacon slices on a paper towel-lined plate; crumble the drained bacon into a bowl. Stir in the diced mushroom steams, cream cheese, 2 tablespoons Parmesan cheese, Worcestershire sauce, and pepper until evenly mixed. Spoon the filling into the mushroom caps and place into cast iron skillet (pour out bacon grease and wipe with a paper towel before putting mushrooms in) Sprinkle with the remaining 2 tablespoons of Parmesan cheese.

Bake in the preheated Blaze Tower until the mushrooms are tender and the filling is melting and warm, 25 to 30 minutes.

During last 5-7 minutes of cooking cut up the butter and place in skillet around mushrooms. Then place garlic in skillet to cook with butter and add amazing flavor to outside of mushroom heads.

Let cool slightly but serve warm. 
These are delish. Please let us know if you try any of our recipes and how they worked for you. 
Enjoy!
:: FEED YOUR CAVEMAN ::