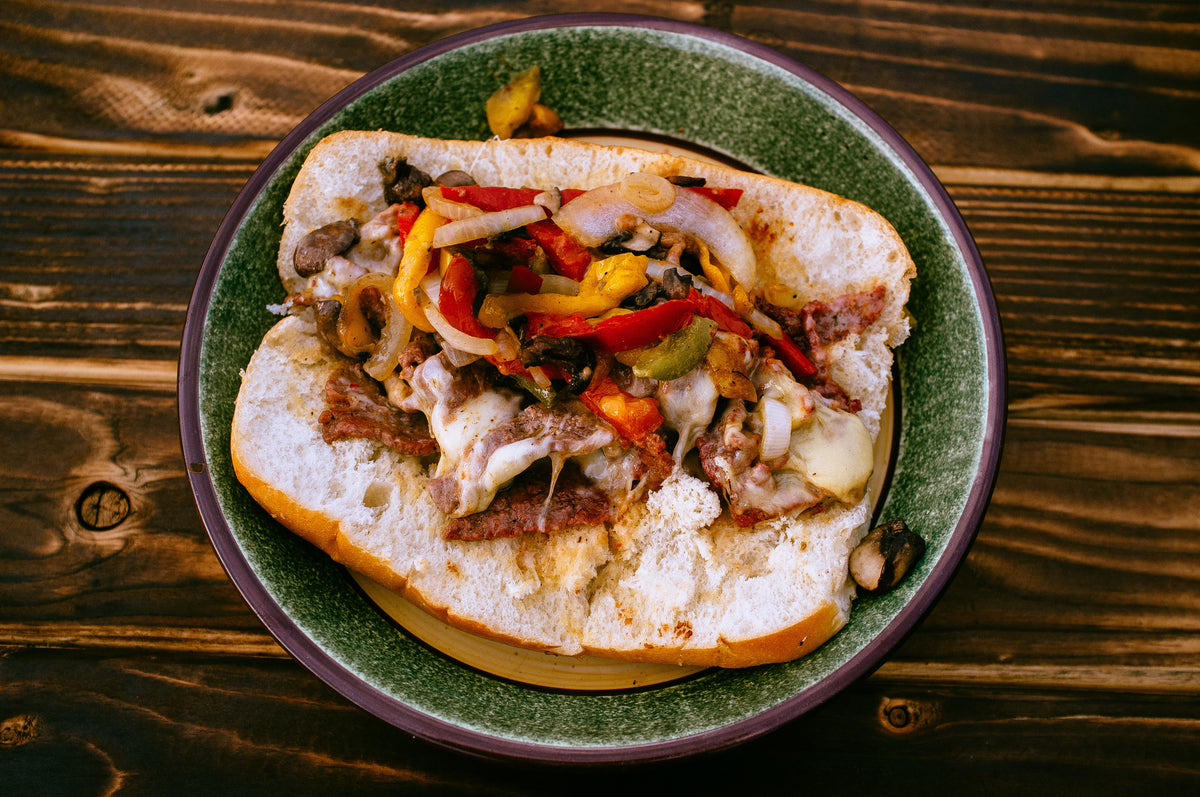 Nothing feeds your Caveman better than any combination of meat and cheese cooked over coals. The Philly Cheesesteak is the kind of meal that fed the men and women that built this country. Here's a perfect version to cook with your Blaze Tower.
What You'll Need
2 tablespoons olive oil
4 tablespoons butter
2 medium onions, sliced as thin as possible and rings separated*
green, red, and yellow peppers, sliced
1 cup sliced mushrooms
12 ounces chipped steak (very thin-sliced eye of round, rib eye, or sirloin tip roast cut into 1-inch slices)**
Salt and coarsely-ground black pepper, and garlic
provolone cheese slices and/or white american cheese
1 (8-inch long) Italian loaf, hoagie roll, or French baguette
How to Make It in Your Blaze Tower
First step is to get your good cooking jams on. I like to use our Atmos while I'm grilling. Have utensils, apron, grilling gloves, and beverage of choice at the ready.
Start by seasoning the meat with salt, pepper, and garlic (or spices of your choice). Set aside to marinate.
I used the Blaze Baking Steel to make the cheesesteak sandwiches inside the Blaze Tower. I heated the Blaze Tower up to about 350-400 degrees using charcoal, then inserted the Blaze Baking Steel that comes with the pizza kit. Let the Blaze Baking steel heat up for about 5 minutes. If using coals make sure to move coals over to one side of the basket so there is a cool and hot side for cooking.
While the Blaze Tower is heating to the needed temperature prepare the veggies. I like to keep it simple which is probably not the best way to prep and cook the veggies, but I throw all the sliced veggies in a mixing bowl, toss them in the olive oil, and season to taste with salt, pepper, and garlic. 
Once the baking steel is heated melt some butter (yummy melted butter) on the top of the hot steel. Using a grill utensil spread the melted butter all over cooking areas. Lay out some of your steak on the hot side to start cooking. It'll cook fast so you're just wanting to brown it a bit. If you're steak is not already cut up this is when you'll want to cut or shred it. Once cooked move the steak over to the cool side and line it up. Layer cheese down the line of meat to start melting, oh so heavenly to watch.
Now time for the veggies. Throw them on the hot side and toss them after a couple minutes. You won't need to cook them too long but add some butter and let them set for a bit. Then toss again and maybe more butter if you want (I mean, come on, it's butter), no need for the veggies to be healthy for this meal. If you have room move the veggies to the cool side while you toast a couple buns on the hot side of the steel. Once they're toasted scoop (using a food scraper) some meat with melted cheese into a bun then throw on some of the delicious veggies. 
For the best cheesesteak sandwich ever, wrap the sandwich in foil for about 5-7 mins to let juices soak into the bun a bit.
Open and eat with pleasure.
P.S. It's proper etiquette to say "yummm" out loud and/or growl due to the goodness you are eating.