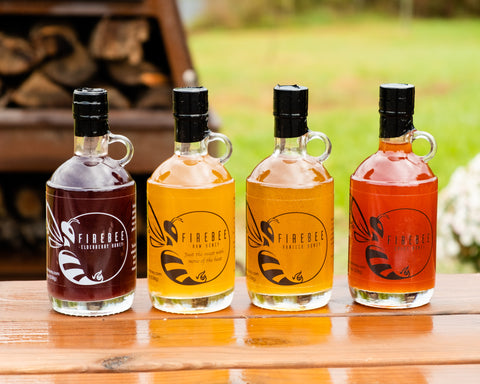 09 Firebee Handcrafted Honey
Handcrafted Honey
Every flavor of Firebee Honey is individually handcrafted using farm-fresh raw honey from midwestern bees infused with a single, natural ingredient. This creates a unique blend of flavors that will elevate the flavor of any food. Each bottle is backed by our satisfaction guarantee and brag-worthy customer service.
Easy to use as a spread, glaze, or dipping sauce and pairs great with
Pizza • Chicken Strips • Fajitas • Tacos • Eggs • Salads • Salmon • Tilapia • Chicken Wings • French Fries • Salsa • Biscuits • Rolls • Hamburgers • Shrimp • Grilled Vegetables • BBQ
And so much more!
Made with Raw Honey
Raw honey comes straight from the hive to your home with minimal filtering to retain all of the healthy properties found in honey. 
Most commercially processed honey is heated to 180 degrees and pressure filtered to 10-15 microns. This processing removes the healthy pollen, enzymes, minerals, and vitamins that naturally occurs in raw honey.
Firebee Spicy Honey is gently warmed to less than 120 degrees to minimize heat damage and is gravity strained to 400 microns to preserve the many health benefits of natural, raw honey.